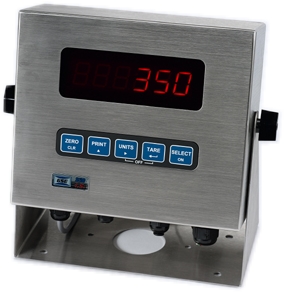 GSE 350 Series Scale Systems Indicators - EC Approved
Models Of GSE 350 Series Scale Systems Indicators - EC Approved
| Model | Capacity | Divisions | Plate Size |
| --- | --- | --- | --- |
| GSE 350 ZD-E Scale System Indicator | N/a | N/a | N/a |
| GSE 350 ZD-C Scale System Indicator | N/a | N/a | N/a |
| GSE 350 SS-E Scale System Indicator | N/a | N/a | N/a |
| GSE 350 SS-C Scale System Indicator | N/a | N/a | N/a |
| GSE 355 SS-E Scale System Indicator | N/a | N/a | N/a |
| GSE 355 SS-C Scale System Indicator | N/a | N/a | N/a |
These scales are:

Product Applications
Weighing Indicator
Product Features
Display resolution up to 1:100.000
90-250VAC or 12-36VDC Power input
ZD Model - external Mains Adaptor
SS Model - Direct Power input through Cable Gland
Checkweighing (Red, Green, Amber LEDs or LCD bar Display)
Filling, Batching & Counting Capabilities.
Durable elastomeric keypad.
Remote Key input.
Stainless Steel nema 4x/IP65 or Zinc Die Cast Enclosure
RS232 as standard
Models 350 SS and 355 Only -
> Remote Display mode allowing the Indicator to be set up as a slave to the 350 or
60 Series Models.
> ID Register for transmitting an operator entered ID to a printer or Computer.
> Real time clock with battery back up.