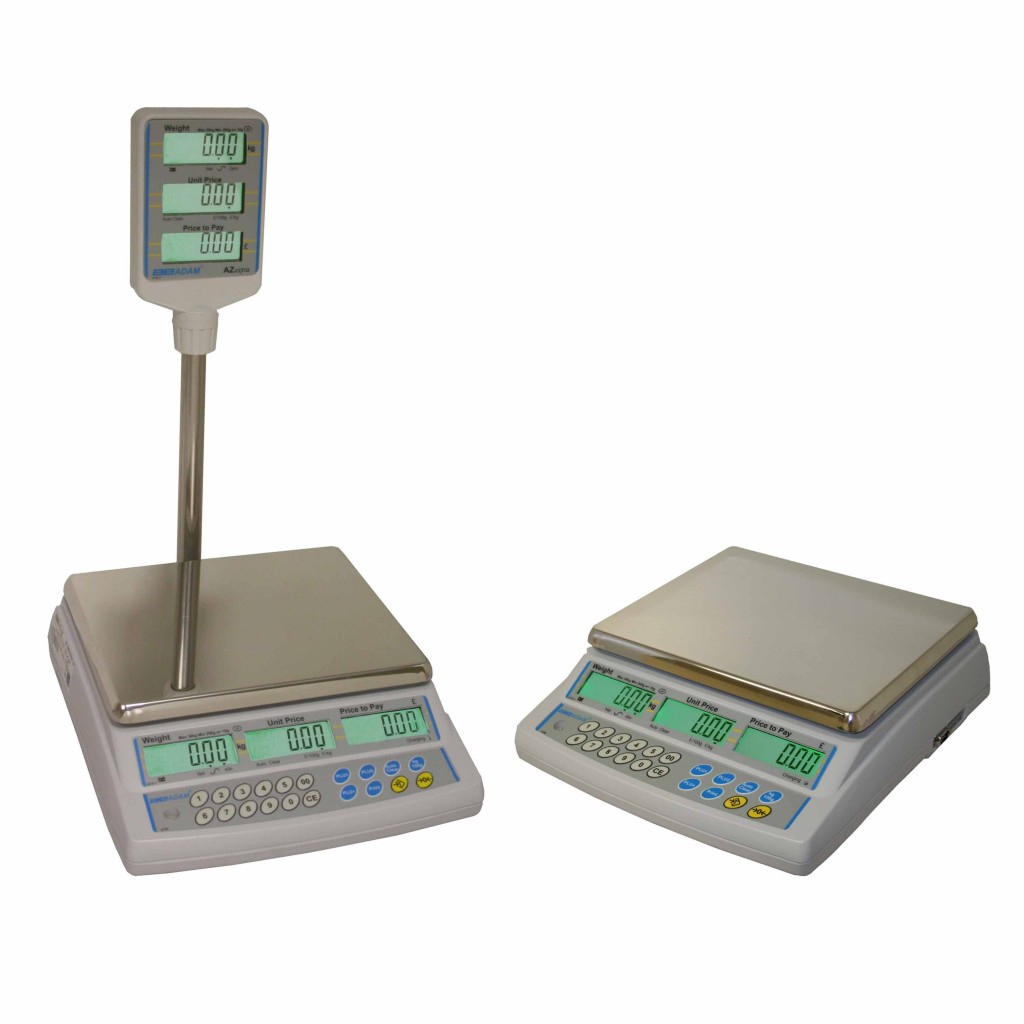 AZextra Price Computing Retail Scales (EC Approved)
Models Of AZextra Price Computing Retail Scales (EC Approved)
| Model | Capacity | Divisions | Plate Size |
| --- | --- | --- | --- |
| AZextra 3 Price Computing Retail Scale | 3000 g | 1 g | 225 x 275 mm |
| AZextra 6 Price Computing Retail Scale | 6000 g | 2 g | 225 x 275 mm |
| AZextra 15 Price Computing Retail Scale | 15 kg | 5 g | 225 x 275 mm |
| AZextra 30 Price Computing Retail Scale | 30 kg | 10 g | 225 x 275 mm |
| AZextra 3P Price Computing Retail Scale | 3000 g | 1 g | 225 x 275 mm |
| AZextra 6P Price Computing Retail Scale | 6000 g | 2 g | 225 x 275 mm |
| AZextra 15P Price Computing Retail Scale | 15 kg | 5 g | 225 x 275 mm |
| AZextra 30P Price Computing Retail Scale | 30 kg | 10 g | 225 x 275 mm |
These scales are:

Product Features
Low profile design and robust construction.
Non-slip adjustable feet.
Front & rear backlit displays for operator and customer to see the total cost, unit price and weight.
Colour coded keys to quickly identify the most frequently used keys.
RS232 bi-directional interface for communication to printers and computers as well as integration into other systems.
Real time clock with date and time.
Unit price / 100g and price / kg can be entered through the full numeric keypad.
103 product look up (PLU) memories to store a full range of products.
Auto clear function can be set to automatically clear the last unit price entry to help reduce miscalculation.
Rechargeable battery with up to 90 hours of operation lets you take the AZ extra anywhere.
Auto power off to save battery life.
Stainless steel weighing pan.
Full tare range.
EC type approved.