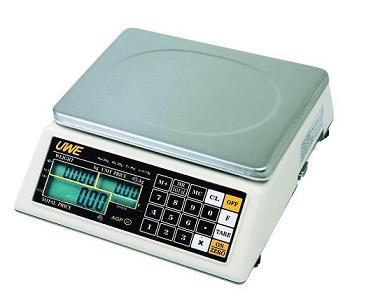 AGP Retail Scales EC Approved
Models Of AGP Retail Scales EC Approved
| Model | Capacity | Divisions | Plate Size |
| --- | --- | --- | --- |
| AGP 3 Retail Scale EC Approved | 3 kg | 1 g | 250 x 215 mm |
| AGP 15 Retail Scale EC Approved | 15 kg | 5 g | 250 x 215 mm |
| AGP 6 Retail Scale EC Approved | 6 kg | 2 g | 250 x 215 mm |
These scales are:

Product Applications
Weighing.
Price Computing Retail Scale.
Product Features
Bold type LCD displays for weight, unit price & total price.
Memory accumulation, non-weighed article, fixed unit price, manual zero & full range tare.
Auto power saving & power on zero tracking.
x 10 Extended display function.
Following only operational when printer attached accumulation & calculator function,
M+, MR, MC and Data recall for weighing & Printing of transactions.
For weighed and non-weighed articles.
Metric only.
Price per Kg only.
Mains or rechargeable Battery (200 hours) - Battery & Charger supplied.
Switchable Price per Kg & Price per 100g.
RS232 as standard.
UTP compatible.
Dust Cover.
Stamping fee included.