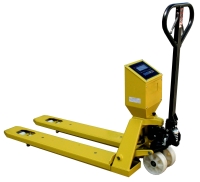 HPS Mild Steel Pallet Truck Scales
Models Of HPS Mild Steel Pallet Truck Scales
| Model | Capacity | Divisions | Plate Size |
| --- | --- | --- | --- |
| HPS-2AE Mild Steel Pallet Truck Scale | 2000 kg | 0.5 kg | Forks |
Product Applications
Weighing
Product Features
25mm Backlit (Selectable) LCD Display
Heavy Duty construction
Rechargeable Battery (100 hours) Charger Supplied.
Weighing and Parts Counting Modes.
IP67 Mild steel Load cells
Gross & Nett Weights.
Totalising in weighing mode.
Selectable Auto-Off function.
Lifting Height 75-190mm.
Forks 1180 x 180 mm (L X W) Interior Opening 180mm
Alternative version available with wider interior opening 340mm
Optional Built in Tally Roll Printer - on factory order only.