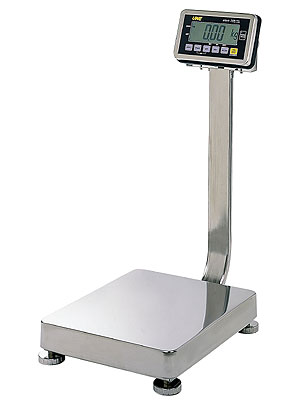 AFS Series S.S Floor Scale EC Approved
Models Of AFS Series S.S Floor Scale EC Approved
| Model | Capacity | Divisions | Plate Size |
| --- | --- | --- | --- |
| AFS 60K Stainless Steel Floor Scale EC Approved | 60 kg | 20 g | 525 x 425 mm |
| AFS 150K Stainless Steel Floor Scale EC Approved | 150 kg | 50 g | 525 x 425 mm |
| AFS 300K Stainless Steel Floor Scale EC Approved | 300 kg | 100 g | 525 x 425 mm |
| AFS 60II Stainless Steel Floor Scale EC Approved | 60 kg | 20 g | 525 x 425 mm |
| AFS 150II Stainless Steel Floor Scale EC Approved | 150 kg | 50 g | 525 x 425 mm |
| AFS 300II Stainless Steel Floor Scale EC Approved | 300 kg | 100 g | 525 x 425 mm |
These scales are:

Product Applications
Weighing
Product Features
Stainless steel Indicator, Pillar & Base.
Large Stainless Steel Plate.
Large Backlit 51mm LCD Display.
x10 extended display function.
Mains or rechargeable battery (200 hours) Battery & charger supplied.
Low Battery Signal.
Keyboard Calibration.
KG, Lbs & Decimal Lbs. (Stamped as metric only)
Dual range available for non-approved versions.
Programmable resolution up to 1:30.000 for non-OIML
Standard versions have aluminium sub frame and IP65 Aluminium Loadcell
II Versions have stainless steel sub frame and IP67 SS Load cell.
L Versions have Larger Plate 600 x 500mm.
Pillar Heights 600mm.