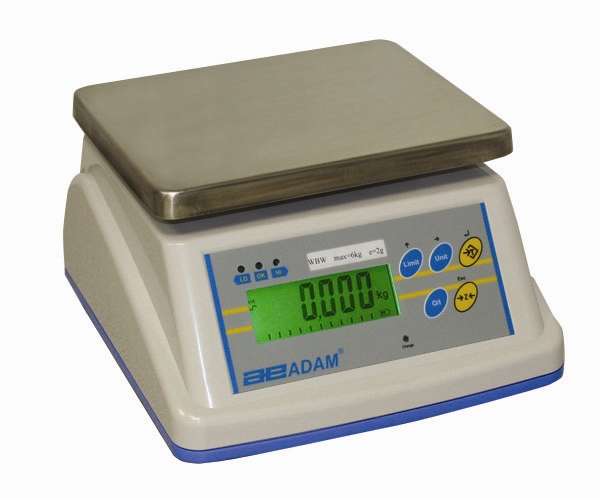 WBW Wash Down Scales
Models Of WBW Wash Down Scales
| Model | Capacity | Divisions | Plate Size |
| --- | --- | --- | --- |
| WBW 2 Wash Down Scale | 2000 g | 0.2 g | 210 x 173 mm |
| WBW 16 Wash Down Scale | 16 kg | 2 g | 210 x 173 mm |
| WBW 8 Wash Down Scale | 8000 g | 1 g | 210 x 173 mm |
| WBW 4 Wash Down Scale | 4000 g | 0.5 g | 210 x 173 mm |
Product Applications
Weighing.
Check weighing.
Wash down / Wet environments.
Product Features
Sealed wash down rated to IP66 for wet environments.
Large backlit LCD display with capacity tracker,
to clearly see how much weighing capacity is remaining.
Coloured LED Check limit indicators for visual check weighing - Red, green, and orange.
Rechargeable battery with up to 90 hours battery life and AC adapter included.
selectable auto power off to save battery life.
Stainless steel pan.
5 weighing units (g,kg,oz,lb:oz).
EC type approval (on model WBW M only)
Adjustable level feet.
Full range tare.